Do Not Be Afraid!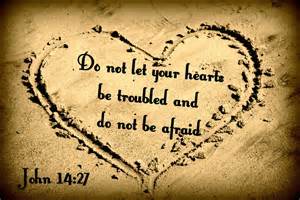 Divine inspiration has always been speaking to us through the channel of human beings. It is inevitable that communications of this nature are limited by the spiritual awareness of the person through whom they are given. A good example is Gerard Markland's beautiful hymn: 'Do not be afraid, for I have redeemed you. I have called you by your name, you are mine.' This presents us with the somewhat limited Christian vision of the nature of God.
However, the Universal Christ, who spoke to our world through the Jesus legend, is telling us now: 'Do not be disappointed that no-one has come to redeem you. Rest assured that nobody ever will. Do not be afraid when you hear that the only who can do this for you is you, yourself. Take heart for I am with each one of you, ready and willing to teach you how to go about it.

'For a long time I have been waiting patiently to be called upon to help you all to redeem yourselves, each other and your world. I have always been with you and forever will be. You have nothing to fear, because the time has come in humankind's spiritual development and that of your world for learning that you are capable of far greater things than merely being saved and redeemed by someone else. Each one of you is a young God in the making, who can do that much better for themselves. The Angels and I are going to guide and protect each one of how to go about it. The time has come for consciously showing you the way, whereas this could previously only be done through your subconscious.

'When you bear in mind that Jesus has always been a metaphor for your own Christ nature, the Divine spark and My presence within each one of you, you will recognise that the promise of Jesus as the saviour and redeemer of humankind and its world has not been an empty one. It's just that each has to do their share of their own redemption and healing, as well as that of your world. Don't be disappointed that this can only be done through bringing higher part of your nature forth from within the very core of your own being. You wouldn't expect anything less from young Gods, would you?

'To gain a better understanding of how the Cosmic energies affect all earthly life, take a look at 'The Great Plan Of Life Unfolds'. You will then be able to see for yourself why the disclosure that Jesus is not a historical figure and that every surface word of the tale should not be understood literally, had to wait until the Aquarian Age, the age of truth. Your reactions to the happenings in your life reveal to the wise ones in the world of light, who are in charge of you and your world, whether someone is ready to receive Me and walk together with the Angels and Me in the full consciousness that you yourself are God.
'Obviously, this brings with it many responsibilities and duties. Although the choice is yours, try not to shy away from anything. Whatever comes your way in the line of unresolved issues your Karma still has in store for you, just hold tight to hands of the Angels and Me. Let us show you the way, so that together we can manifest the Greatest Healing Miracle of all times, the healing of your whole world and everything in it. And never forget that because on the inner level all life there is no separation between anything, when one of you heals, the whole of Creation – not merely your world – is healing with you.

'The law of life is love. Learn to love the life I have given to you through the understanding that everything it contained has been and still is there to fulfil a wise higher purpose. Love Me in yourself and all your siblings in the family of life, human and animal alike, your world and everything that shares it with you. Your true nature is love and whenever you act in kind and loving ways, you are a true son/daughter of Mine and true to Me.

'To prove that you really are one of them, give of your best and the Universal laws will see to it that only more of the same can return to you. These laws are My laws, for I am your God, the One, the Great Father/Mother of all life, who created you, your world and all worlds, and also all laws. Everything rests safely in the loving hands of the Angels and Me and all is well with you and your world. My prayers of healing, reconciliation and peace are waiting to flow through even the last and slowest one of you into everything that is.'

The following is the essence of the Monday Thought of 19.9.2016 that arrived in my inbox from the White Eagle group of spirit guides when I was in the process of updating this part of my work: 'Peace of heart, loved ones, and bless you. You are not alone. Spirit companions who have been with you throughout the ages are walking by your side. You are surrounded by a large group of radiant witnesses who to this day are invisible to your earthly eyes, but they are there nonetheless.

'Do not be afraid of anything, for in love all is one and there can never be any separation and reincarnation does not part you from anyone you have ever truly loved. No power between Heaven and Earth will ever be able to separate you. Hand in hand with them and those you have learned to love in your present lifetime, you will forever be walking up the mountain of spiritual progress. All of us together, those of us on this side of the veil of consciousness that separates our world from yours and you on your side, we are constantly moving forwards and upwards on the evolutionary spiral of life.'
Recommended Reading:
• 'The Great Plan Of Life Unfolds'
• 'Each Their Own Saviour And Redeemer'
• 'The Saviour And Redeemer Not An Empty Promise'
* * *
This article is a chapter from 'Astrology On The Healing Journey'.
If it has whetted your appetite to read more, please follow the link below:

'Astrology On The Healing Journey'