About Kahlil Gibran - The Prophet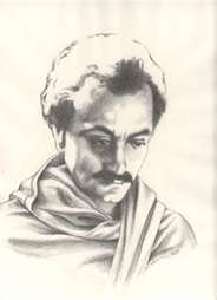 Born on the 6th January 1883 in Bsharri, Lebanon, Kahlil Gibran died on the 10th April 1931 in New York, USA. He was a Sun Capricorn and one of the finest examples known to me of someone whose work demonstrates how this sign can bring out the very best in some souls.
Gibran's Arabic name in full was Jubran Khalil Jubran. He was a Lebanese-American philosophical essayist, novelist, poet and artist. He received his primary education in Beirut, but in 1895 he and his parents emigrated to Boston. He returned to Lebanon in 1898 and studied in Beirut, where he excelled in the Arabic language. On his return to Boston in 1903, he published his first literary essays and met Mary Haskell, who was to be his benefactor for the rest of his earthly life. In 1912 Gibran settled in New York City and devoted himself to writing literary essays and short stories in Arabic and English, as well as painting.
In its perception of the world and the spiritual realities that lie behind it Gibran's literary and artistic output is a romantic one. His writings were deeply influenced by the Bible, the philosophies of Friedrich Nietzsche and those of William Blake, 1757 – 1827, the English poet, painter, and printmaker. Largely unrecognised during his lifetime, Blake is now considered a seminal figure in the history of both poetry and the visual arts of the Romantic Age. His prophetic poetry has been said to form what is in proportion to its merits the least read body of poetry in the English language. His visual artistry led one modern critic as far as to proclaim him to be the greatest artist Britain has ever produced. Although he only once journeyed farther than a day's walk outside London during his lifetime, he produced a diverse and symbolically rich corpus, which embraced the human imagination as the body of God or, as he put it, human existence itself.
Gibran's writings in both languages deal with such diverse themes as love, death, nature and a longing for the homeland; the author's lyrical outpourings express his deeply religious and mystical nature.
Before you now is a small collection of poems from 'The Prophet' in remembrance of Kahlil Gibran, through whom these gems of spiritual wisdom were first given to our world. I have chosen those that to this day represent the most meaningful ones for my personal healing journey. As my own understanding of the topics under discussion increased, Gibran's poems have been updated and partly rewritten under the guidance of my inner teacher, whose inspiration works through me. Wisdom from this source is constantly available to all who are willing to listen, the same as it did for Kahlil Gibran during his most recent time on the Earth plane, and the way I have always done with all my writings.

The poems I have chosen are presenting themselves to you in the way I imagine Gibran would write them, if he were still with us on this side of the veil of consciousness. As I love each one of them equally, they are appearing here in alphabetical order – with the exception of 'On Death', which I feel definitely belongs to the end.
* * *

The above is part of 'Words Of The Prophet – A Celebration Of Kahlil Gibran'
.If you would like some more of them, please follow the link below:

'Words Of The Prophet – A Celebration Of Kahlil Gibran'